Subject Posted Date: May 25, 2007 - Friday - 4:20 AM
Wednesday: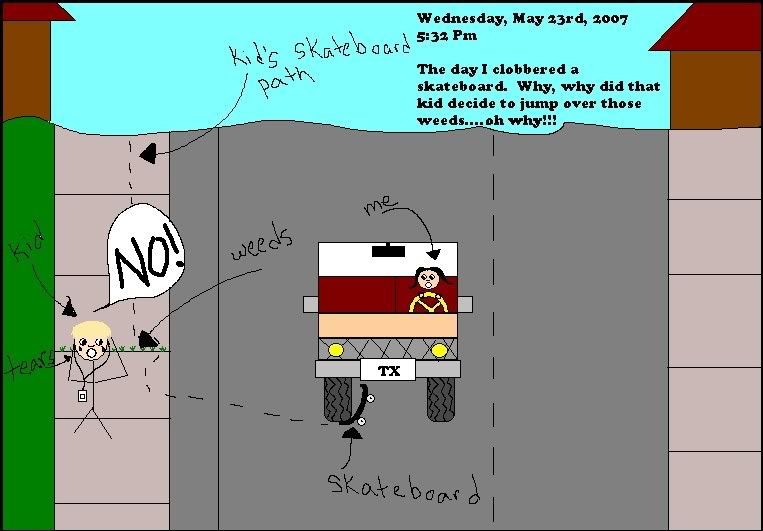 Thursday:
My husband and I sell things online and recently we sold a movie to someone. It was paid for (including postage), we mailed it, and all in all it was a smooth transaction. We got home Thursday and there was a message on the machine.
This is more or less what the older lady said, but try to hear this being said with a Texas twangy twang (worse than mine if you know me) "This is so and so, and I opened my mail today and just got the nicest surprise of my life! There in the package was my favorite movie! I just love this movie. Thank you so much for sending it to me, you are so precious. I want to know how much I owe you for the postage. I was just so happy to get this in the mail! I will be away this weekend and can't watch it, but I am looking forward to seeing it. When I am done with it do you want me to mail it back or can you tell me a way to copy it or maybe I can just buy it from you. I really love this movie! Well, you call me back and let me know, my number is...."
WHAT!??? My husband and I looked at each other, and then just busted out laughing. We didn't give out our phone number, so this person had looked it up, which really isn't that hard, but still strange. We looked online to make sure it had been paid for and that it got sent to the right address. Everything looked right so I called her back. She thanked me again and asked how much she owed me. I told her that it had already been paid for including the postage. She didn't know how that happened and then thought that maybe it was her daughter who had bought it for her. Luckily the daughter used her initials in her screen name and sure enough that is who it looks like bought it. Then she started asking me if I could get other movies for her! YIKES! What did I stumble into?
But what I am really wondering is....does anyone in that family talk to each other?
Friday:
It has been raining so long and so hard today that for the first time in my life I saw frog road kill. I am not talking about a little bitty frog either...this thing was in competition with the rabbits in the size category! It could have put a dent in your bumper!