Round-trip approximately: 700 miles
Time round-trip: 14 hours (without stops it would have been 12 hours)
Major cities crossed: Austin, Waco, Dallas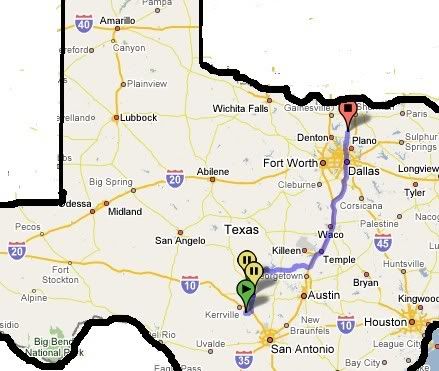 If you have been following along you know that Frankie and I are on the last stretch of our trip to Celina, TX to see family and watch a major league soccer game. We have gotten on I-35 and made the split east to Dallas. Soon after this split we come to a town that I was very excited to see. The ones who know me well know I have a love affair with Italy. So, at the very least to get to go to a town that was named after the belle paese, was a wonderful thing.
Sadly, we had to leave Italy and continue on our way. Finally, we started to see signs of the Big-D (and I do mean Dallas).
Then, we saw it. We saw downtown! I should note here, that we were not going to Dallas, but north of it. So why I got excited about downtown beats me.
This is Dallas' Reunion Tower and it is the answer to San Antonio's Tower of the Americas.
Just past downtown we had to get on the tollroad. I really don't like tollroads. We had to pay to get on and we had to pay while driving down it. This is all the change we had left and we still needed to pay the exit toll.
Frankie pulled up to the final toll with the 40 cents needed. He rolled down his window. He threw the money into the bucket. One of the coins missed and fell to the ground. We HAD no other change!! We had no idea how much made it in the bucket. The light did NOT turn green for us to go. We didn't know what to do. Frankie just went. As soon as he drove past the red light a loud buzzer went off!! We both just knew the cops were coming for us. Of course there wasn't but I am sure a picture was taken of the plate and now in the mail we will get some HUGE ticket for running through the stupid toll booth and it will be in MY name since the car is in MY name!! NOT AGAIN!!! (Yes, that is right...not again....just ask my husband about it!!)
Thankfully Celina was only about 20 more minutes away. We were so wound up about the tollroad that we couldn't have gone on much longer. Driving on...finally....and I do mean FINALLY we saw this:
Coming up next is the last installment of our trip. The blog will contain: major league soccer, Dion Sanders house and the return trip home! Hope you read it!