Since we didn't actually get to bed until 3 AM last night we decided to sleep until 10 today and just make another late night tomorrow to finish our trip to Connecticut. So far we have gone over 1300 miles!
I woke up at 8 and couldn't go back to sleep. UGH! Another 5 hour night of sleep for me, not something I want to make a habit. I decided to check on somethings online since we had free Internet and I was awake. The weather still looked good for the day with possible rain, but no ice. I took pictures from the hotel in Sevierville, TN (close to the birthplace of Dolly Parton and Dollywood!) of the incoming clouds.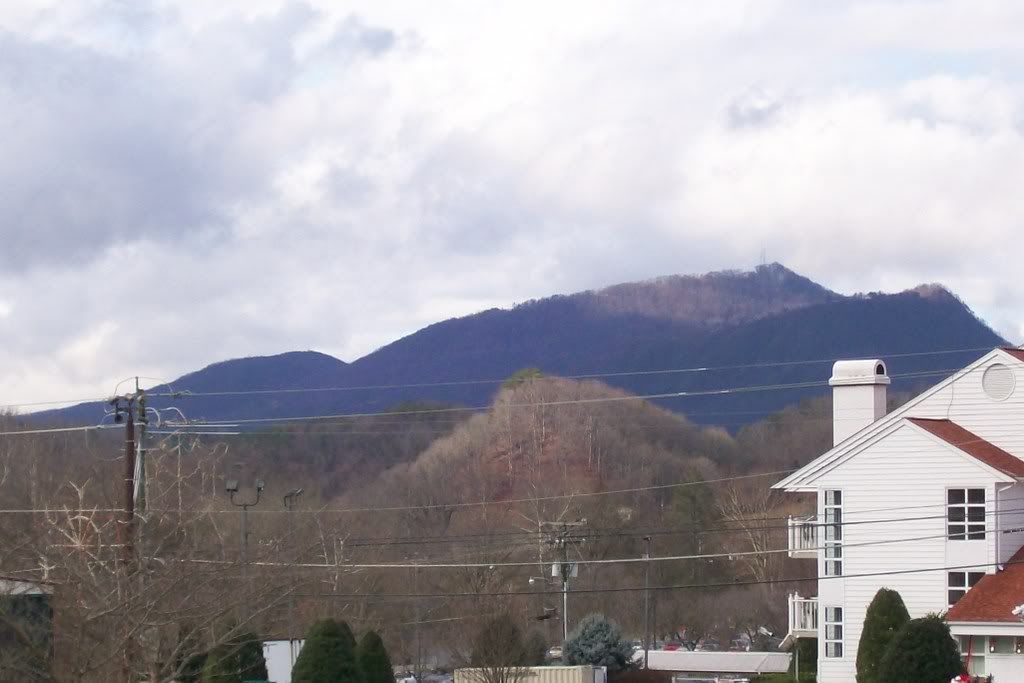 We didn't leave Sevierville until 12 PM. What a long day ahead we had! We figured we would get to Connecticut at around 2 AM. Oh I was so looking forward to that!! But we cowboyed up and got on the road.
We saw the Smokey Mountain region of Tennessee and eastern Tennessee today during our travels and it was very pretty. We managed to stay in front of most of the clouds so I was able to get some great pictures of the area.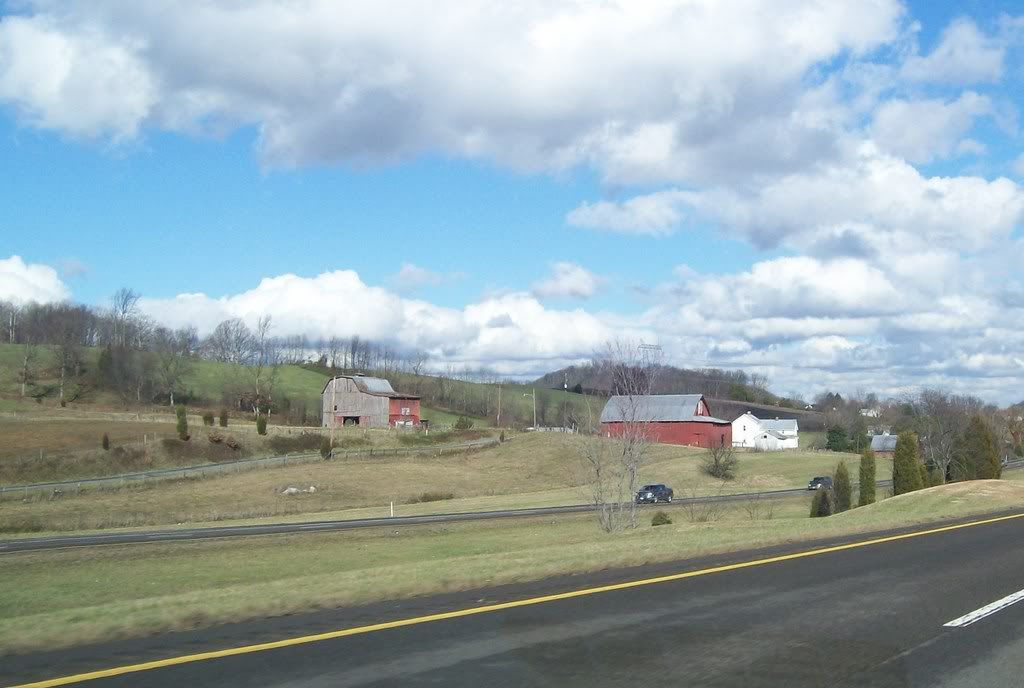 Finally we got out of Tennessee (that ordeal outside of Nashville yesterday really threw us off schedule) and into Virginia.
Virginia is beautiful!! I loved it. Picture green rolling hills, wide open spaces, barns, cows and you have it. I got a few pictures, but I was driving so I had to be careful.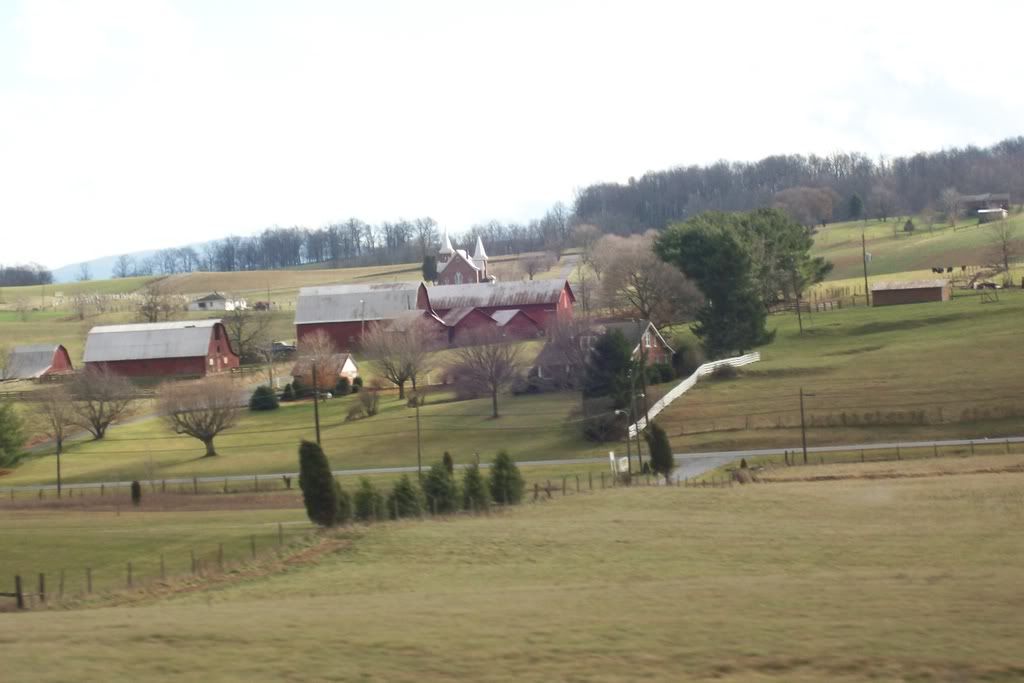 We had plans to go to Gettysburg, PA and Hershey, PA, but it started to get dark. I really wanted to see it and it we were going to get to CT very late, so Frankie and I started talking. We decided to get a hotel room in Maryland or just over the border in Pennsylvania but we needed Internet access to easily book this room without spending an arm and a leg like we would if we just walked in a hotel. We though of calling several people that we trust and had Internet access to go on Priceline.com. Instead we stopped at a random hotel that said they had free Internet and simply walked in and asked if we could use their Internet. To our great delight the desk person said, "It's free, I don't care." with as much enthusiasm as the counter she was leaning on could muster.
So lucky us found a room along our route, in our price range, and got there around 9 PM. Imagine that 9 PM!! We could watch TV!! :)
Before we got there we had some "excitement". Frankie looked in his rearview mirror, said a naughty word (the shame!), and started slowing down. Here came a cop with his light and siren! Frankie was going about 10 mph faster than he should have, but thankfully that cop just kept going. What a relief!!
Maybe 20 minutes later we found where the cop went as everyone was slowing down and there was a flurry of flashing lights. The only thought I had was, "Crap, not another wreck!!" Visions of yesterday flashed in my head and instant weariness came over me. Travel was slowed but still moving, so that was good. People were merging into the left lane (the one we were not in, of course). We got up to the lights and there were about 8 cop cars surrounding this one car and they were searching it. So no wreck thankfully, but seriously, did they really need EIGHT cop cars to search this one car?? Must have been a slow night in northwest Virginia!
Pass that, there was an electronic sign that said there was an accident 39 miles ahead. Where was this sign yesterday?? We get about 40 miles from where we need to be and yep sure enough we started inching. At least we were not completely stopped and we didn't have hours still to go. I am trying to find the bright side, but "Crap another wreck!".
We inched for about an hour before getting past the wreck. I was so glad we decided to stop at a hotel. It was a wise decision.
Got through the part of West Virginia we needed...all 25 miles of it.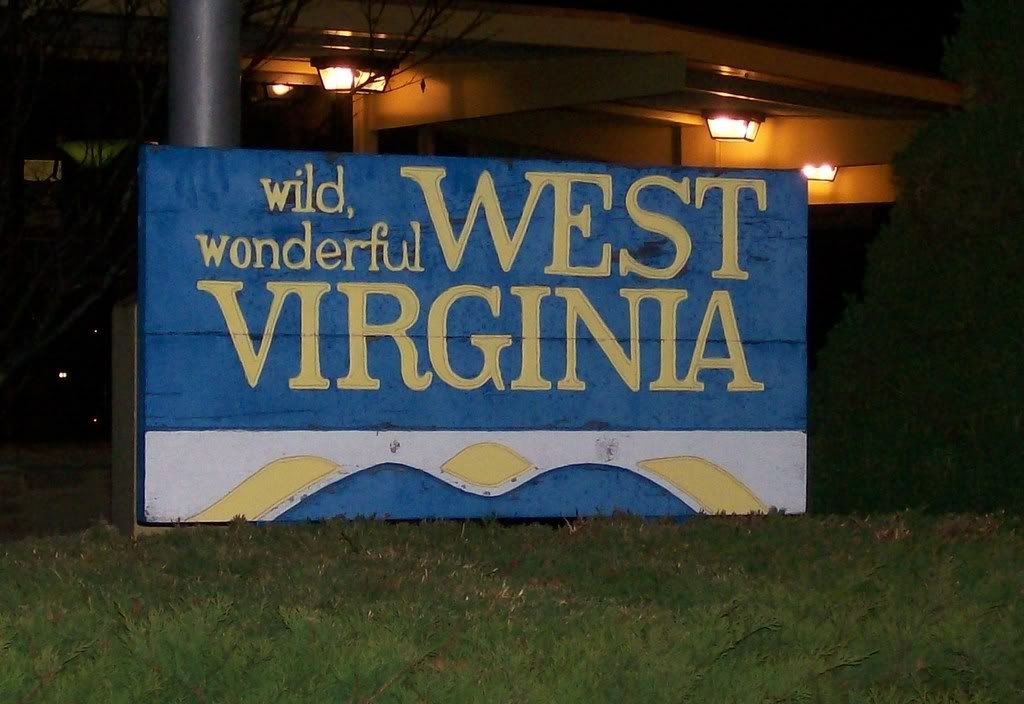 Got through the part of Maryland we needed....all 11 miles of it.
Hey, Nicki if you read this we spent the night in Hagerstown, MD very close to Williamsport which if I remember right (and why I remember it I couldn't tell you) is where you moved from when you first came to Crane. :) I hope to take a few pictures in the morning of Maryland. I will post them tomorrow. Speaking of where we spent the night, the hotel was on the Mason-Dixion line. How cool is that!!
I am outta here...gonna go find supper and go to bed! :)