I have found a new food, that really is just fun to make. They are called
pasta para duros
, a Mexican snack made from wheat flour. I had seen them before packaged by a company called
Melissa's
, but this time they were loose in a bin in the vegetable and fruit section. For some reason this propelled me to buy some, that and the fact that they were only $1.18 per pound. I had no idea how to eat them, what to do with them, or really if they were even edible. I had to ask the cashier what they were even called, then I came home and looked up more information online.
Here is what they look like when you buy them: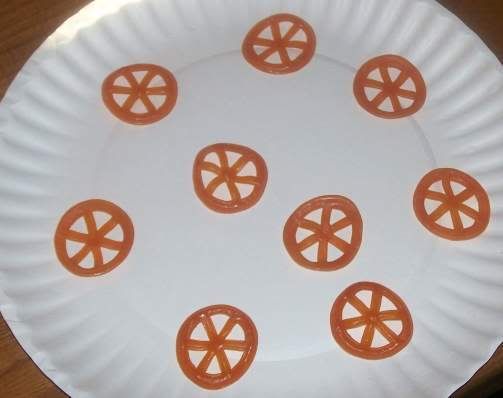 They are about the size of quarters and are a red-orange color. They are very hard which the word duro means hard in Spanish. Really they look like sickly tomatoes that have been sliced.
To cook them you can either fry them in oil or microwave them. Neither method takes very long. I have not tried frying, but online it said about 2 or 3 minutes. Microwaving takes roughly 30 seconds. They are done when they have puffed.
Here is what they look like puffed from the microwave: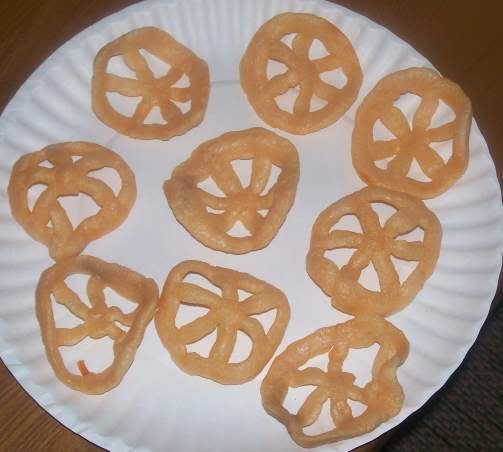 They are now about the size of a potato chip. It is really fun to watch them grow. If you overcook them in the microwave they will burn. I found that out the hard way. :) They taste a lot like pork rinds and have the same texture. So if you like pork rinds you will like these. They are very dry so having some salsa or Tabasco sauce to dip them in is great. Also suggested online is lime and chili, which is what I will be trying next.
If you see some at your local store pick some up for a great treat!