I took a walk yesterday and to keep me from having to watch out for cars I headed down the street to the Center Point Cemetery. (I, of course, took my camera.)

The cemetery in Center Point, Texas has the distinction of having the most Texas Rangers buried there (No, not the baseball team). There are 32 Texas Rangers buried there, which is pretty impressive, seeing how there are less that 1,000 people total in Center Point.

There are other interesting facts about this little cemetery. The lead guitarist for one of the first psychedelic rock bands, 13th Floor Elevators, Stacy Sutherland is buried there.
Also, maybe you have seen the email that says "A Soldier's Funeral (Texas Style)". That is a true account; it happened here in Center Point.

Now you have seen the interesting, how about the old. The oldest marker is from 1875, now I know that doesn't sound very old to some people, but you have to remember that Texas didn't become a state until 1845 and to town of Center Point didn't have settlers until the year 1852. I don't think this is the 1875 marker, but it might be. It was the only one made from wood and the were no traces of any writing.
It could have been this one, as you can see it had been there awhile and had broke in two places.
This was the oldest one that was still readable.

Now you have seen the interesting and the old, how about the odd and creepy? It must have been a trend at one time to have a marker in the shape of a tree stump. I saw about six of these. (Update: I have information about those stump tombstones, thanks to my friend Amanda. They were erected for memebers of the Woodmen of the World before the 1920's.)

I don't know what to think about this quote on a tombstone...it just seems strange.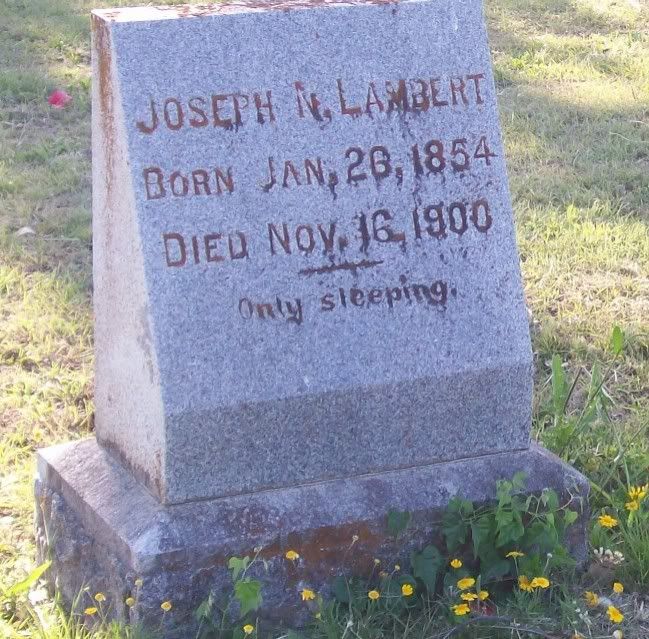 I don't know if this one is odd, creepy, or just sad. There was nothing marking this grave, except for the raised earth and a pot of fake flowers.
And now for the creepy...
These are just sitting out in the back. Just sitting there. I can only hope they are empty.
If you have watched even one horror movie then you, like me, would know better than to get any closer to the above picture or the picture below.

As I walked in the cemetery I saw graves that were highly maintained and others that were very visibly in ruins. It made me realize that when I die, I don't want to be buried. I don't want my loved ones to feel that they MUST visit a grave site or have guilt because they don't/can't. I will not be there, it is not me. I want to do one last good thing for others. My husband and I both want our bodies to be donated to science, cremated (which they would do anyways), and then the ashes spread somewhere. I don't even want my ashes to sit in a urn, again, that is not me, I am not there. I want my loved ones to keep the memories of me when I was alive in their hearts and not at a grave site or on the mantle.
Some may see walking in the cemetery as creepy or even disrespectful, but to me it was a very peaceful walk and I plan on walking there more.

What are your thoughts on cemeteries and/or death? Feel free to share.