I have witnessed many different things cross the road.
Dogs
Cats
Deer (way too many)
Trash
Tumbleweeds (in west Texas)
Javelinas (again in west Texas)
Dirt Devils (I think other people might call them whirlwinds)
People, and yes even
Chickens (Which I had to stop and wait for. After all, they were in the crosswalk.

I am being serious

)
But today marked the first time in my life that I have seen this particular thing crossing the road. I was on my way to work and saw something up ahead.
I thought to myself, "What is that?"
As I got closer I could make it out better and I thought, "No way...it can't be...can it?"
I past it and sure enough, what I had just witnessed crossing the road was a: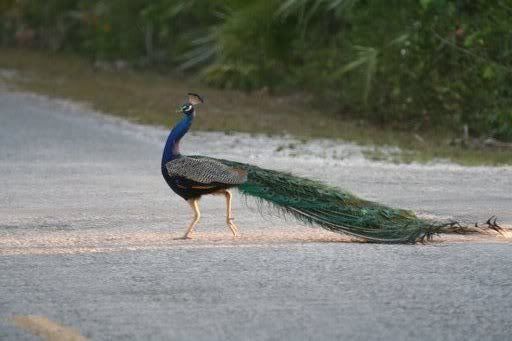 I didn't take this picture, but it is a good representation of what I saw.
So now I have to be on the look out for those native Hill Country wild peacocks!
The list just keeps growing. *sigh*